Retractable Screens for Large Openings
Large, cantina-style glass walls are a booming construction trend. Customers love the seamlessness in connecting their indoor and outdoor spaces, and the ability extend their living area onto a deck or patio.
The idea is wonderful - fresh air living space made possible by a folding or sliding glass wall. However, customers are quickly finding there is a benefit to screen in this large opening so that air may get in, but pests and insects do not.
NW Natural Lighting is proud to offer Wizard Screens large opening screens: The VistaView™ and Horizon retractable screens. These extra-large screen doors feature industry leading auto stop & captured mesh, and can span up to 43'!
Different Ways to Enjoy our Extra-Large Retractable Screens:
Join indoor and outdoor areas without letting insects and pests in. Our oversized glass wall screens are a popular way to finish your cantina wall!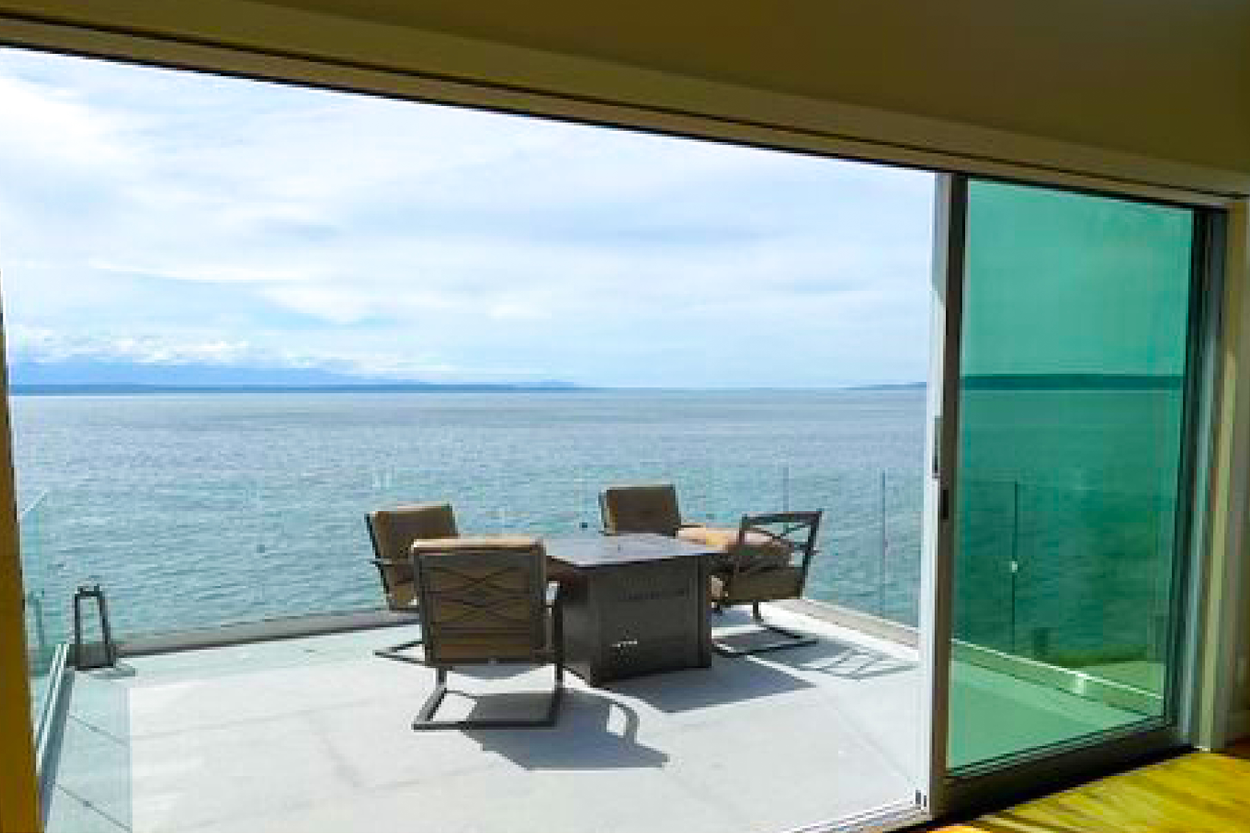 Retractable screens for large openings - up to 43' wide! We frequently provide screens for Nana Walls, Cantina doors, and Pella windows.
Retractable screens that can accommodate unique corner openings, allowing for beautifully unobstructed panoramic views.
NW Natural Lighting is happy to have accomplished almost 30 years in business serving the Greater Seattle Area with their natural lighting, air flow, and screening needs. We would love to help you with your extra wide screen or unique screen project, and feel sure there is a special solution within our product offering for you!
Even if you do not immediately see a solution here for you, contact us so we can help. We would love to be a resource for you! 
Why Choose NW Natural Lighting For Your Large Screen Project
Highest Quality Large Opening Screens
NW Natural Lighting is proud to be a Wizard Screens Authorized Dealer. Their Horizon screen is one of the most sophisticated screening systems for oversized and unique doors and windows.
Unlike typical large wall screens that open vertically, the Horizon screen operates side-to-side featuring an auto-brake system. This allows the over-wide screen to be stopped at any select point, the full length of the screen track.
Wizard Screens use an upscale captured mesh technology, ensuring your screen stays taut at all times. This helps prevent screen blowouts and frayed mesh. 
Combined with the low-profile track, even the largest screens will maintain a sleek profile and seamless view. 
We also offer special extra-durable "pet mesh" for customers with curious animals at home!
Custom Sizes For Unique Doors & Large Screens
We know that every home is unique in size and layout. Our extra large screen systems can accommodate all kinds of special doors including: multi-sliding doors, bi-fold doors, telescoping walls, French doors and corner openings.
Enclosing a patio or balcony is a fantastic way to extend your living space to the outdoors. Our screens can be used not only for transition areas from inside to outside, but also to transform exterior entertaining areas into something more useable year-round.
Our customers especially enjoy how this helps keep patios and balconies fresh for al fresco dining and entertaining, but free of bugs and debris.
NW Natural Lighting is proud to have been working in PNW homes for over 29+ years!
All our specialists and technicians work for us - not contracted or outsourced. Trained specifically to install our window coverings, you are sure to experience a quick and easy screen installation!
Love my new retractable screens and I'm ready for a bug free summer! Great product and outstanding customer service. From ordering through installation an extremely professional and friendly staff. Highly recommend!!
How do I get my custom screen project started?
Your Local Screen Experts
NW Natural Lighting is a proud leader of window treatment and door screen sales and installations here in Western Washington. Our field experts and installers cover territories reaching as far north as Mount Vernon, and as far South as Olympia! 
If  you are interested in any type of window coverings for your home in the Greater Seattle Area, we are ready to help.
Interested in sampling our motorized retractable screens, or any of our natural lighting or ventilation products?  Visit our showroom in Edmonds! 
NW Natural Lighting Showroom
7906 230th Street SW Edmonds, WA 98026