Motorized Window Treatments Providing Sun Protection, Privacy, and More!
We offer a full line of fully-customizable outdoor window shades to beautifully shelter you from the elements. Mounting to the exterior of your home, our motorized screens can be used to enclose a patio, decrease heat and sun glare through large windows, screen in outdoor areas or larger windows for privacy, keep out insects, and more.
Customers love this modern window treatment option as an alternative to traditional blinds. Fully compatible with your smart phone and smart home devices, you can control your shades from anywhere with an internet connection!
Different Ways to Enjoy our Motorized Shades: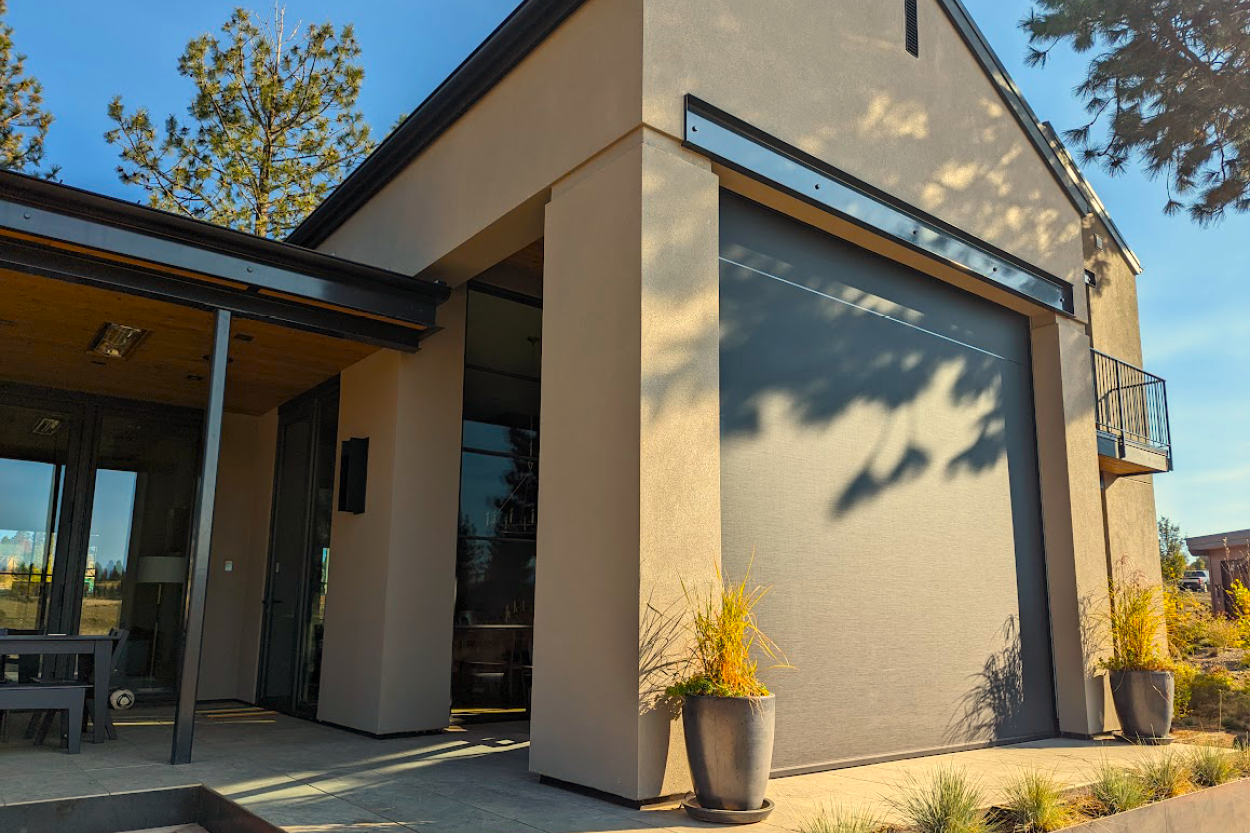 Create privacy in your home with 

our outdoor window shades.

 

Screen your patio or balcony to 

develop a place of outdoor solitude.

Solar shades not only offer privacy, 

but aide in temperature control 

both inside your home or on your 

patio or balcony. 

Lower to use as a bug screen!
Shade yourself from the sun in seconds with an easy-to-use remote control.  

Lower your shades in hot weather to save on cooling costs!

Solar screens add UV protection for your outdoor patio and interior rooms.
Use your sun shade to turn any space into a luxurious outdoor living area (porches, patios, balconies).

Create a comfortable retreat for entertaining, dining, relaxing, or simply enjoying the landscape without intense sun glare.  

Enjoy use of outdoor space year-round!
Why Work With NW Natural Lighting:
Highest Quality Parts & Components
NW Natural Lighting is proud to be a Templar Screens Authorized Dealer. Templar utilizes superior parts, including Alpha Tubular Motors and remotes. We offer our customers a large portfolio of window coverings, shades, and motorized screens of the utmost quality. 
The high caliber construction of our screens allows them to span larger widths/heights than the competition - up to 25 feet in each direction!
Shown here - some of the Templar Screens family sitting on a whole outdoor screen!
Fastest Speed of Installation
Templar Screens are built here in the PNW, avoiding expensive shipping and long wait times.
With a Templar Screen installed by NW Natural Lighting, customers enjoy quick turn-around times as quick as 2-3 weeks from consult to install.
If the sun is too intense and you cannot wait longer for your outdoor window shades to be installed, NW Natural Lighting with Templar Screens is the way to go.
Best Screen Fabric Selection
The screen fabrics offered are the highest quality, offering premium protection and privacy.
With 13 standard shade options and unlimited custom options, you can customize your shades to match any decor or style at no additional cost!
With hundreds of solar shade fabrics, you can fully customize the amount of light entering your home, allowing you to perfectly dial in your indoor natural light to your preference.
NW Natural Lighting is proud to have been working in PNW homes for over 29+ years!
All our specialists and technicians work for us - not contracted or outsourced. Trained specifically to install our window coverings, you are sure to experience a quick and easy screen installation!
Love my new retractable screens and I'm ready for a bug free summer! Great product and outstanding customer service. From ordering through installation an extremely professional and friendly staff. Highly recommend!!
How do I get my window shades installed?
Seattle's Best Screen Company! Just Ask Our Customers...
Eric did a great job with installing our motorized screens. He was professional, did high quality work and explained what he was going. I would recommend him and the company in future projects!
Patios and balconies are popular areas to add exterior shades or privacy screens. This customer used their screen installation to add privacy to their outdoor entertaining area, and to keep out bugs and pests. 
Screen installations are possible anywhere there is an overhead structure. By adding exterior shades to a pergola, you can transform the whole space into a fabulous al fresco dining or entertaining space! 
Direct heat can be too intense. A benefit of our solar shades is they can be completely customized - you determine how much sunlight gets in! This also helps control the temperature of your home, and can decrease heating and cooling costs year-round.
Screen Customization & Technology
With over 100 choices of screen fabrics and colors, there are endless ways you can customize your shades to create a truly modern look and feel for your window treatments.
With each screen fabric, you can choose the exact amount of sunlight you want to pass through your window. This allows our customers the ability to specifically customize their natural lighting experience in their home. Not only does this increase comfortability of your home, but it can also significantly decrease heating and cooling costs.
Seen below - some beautiful color and texture options available with our motorized retractable screens.
Disclaimer: Colors may not appear exactly as shown. Contact NWNL for proper color samples.  Please note an additional charge applies to our designer and custom color program(s).
Control Your Screens With The Touch-Of-A-Button... From Anywhere In The World!
How Do Motorized Shades Work?
This part is easy! The window shade you selected mounts cleanly to the exterior of your home by a NW Natural Lighting installer. Measured to perfectly cover your window, or extend across patio openings, these exterior blinds are sized to match your property exactly.
Once the window coverings are mounted to the exterior of your home, you can open and close them with your remote control, smartphone app, or smart home device.
In the case of multiple shades installed on a home, they can be synced to open and close together. Your screen's high-quality Alpha Motors ensure for smooth screen deployment and stowing, every time.
Take a look at this example of a motorized screen rolling up and down...
Exterior Shades for Commercial Use
Commercial Use of Exterior Motorized Shades
Are you instead interested in window shades but for a business or commercial property?
Our Templar Screens make for excellent outdoor blinds for restaurants and offices too! 
By controlling the amount of sunlight entering your business you can create a comfortable environment for customers to enjoy.
Your Local Screen Experts
NW Natural Lighting is a proud leader of window covering sales and installations here in Western Washington. Our field experts and installers cover territories reaching as far north as Mount Vernon, and as far South as Olympia! 
If  you are interested in any type of window coverings for your home in the Greater Seattle Area, we are ready to help.
Interested in sampling our motorized retractable screens, or any of our natural lighting or ventiliation products?  Visit our showroom in Edmonds! 
NW Natural Lighting Showroom
7906 230th Street SW Edmonds, WA 98026